Naoya Inoue is a professional boxer from the Mongolian country Japan. He is known for his brutal body attack and his powerful punches. Because of his Knockout Wins and brutalises, he got nicknamed as "Monster." He has won world champions in three different weight categories.  In 2019, he was ranked as the best active bantamweight in the world by TBRB and BoxRec. Naoya Inoue has fought a total of 19 fightin his career in his career s and has won all of the fights; 16 with Knockouts. He has a Knockout-to-win ratio of 84%.
Quick Info
Full Name
Naoya Inoue
Date Of Birth
April 10, 1993
Birth Place
Zama, Kanagawa, Japan
Parent(s)
Shingo Inoue
Miho Inoue
Profession
Boxer
Wife(s)
Name not known
Age
27 years
Height
5 ft 5 in
Children
2
Net Worth
Not Known
Early Life
He was born to Miho and Shingo Inoue on 10th April 1993 in Zama, Kanagawa. Naoya Inoue is the oldest son and has a brother, Takuma Inoue. His father had a passion for boxing and even trained boxing but had to leave it to support his family and run his painting company. However, his passion for boxing got passed down to both of his sons. Naoya showed an interest in boxing when he was just five years old. He started training him from a very young age and was quite strict in his training, a result of Naoya's powerful punches.
His educational background is unknown, but he has mentioned that he and his wife had gone to the same high schoo according to an interviewl. So, we can say that he has completed his high school.
Career
Naoya Inoue started his amateur career after winning the Japanese Interscholastic Athletic Meeting. In 2009, he won the junior national championships and then participated in Asian Youth Championships the following year. There he won the bronze medal. He had also made participation in the AIBA Youth World Championship but lost in the introductory series. He got his first major gold medal after his win in the 21st President Cup in Jakarta in 2011. During his amateur career, he was defeated by Yosvany Veitia twice, first in AIBA Youth Championships and second in World Amateur Boxing Championships. Naoya Inoue had a total of eighty-one fights in his amateur career and has lost six of the battles. Forty-eight of his wins were from Knockouts.
He was 19 years old when he turned into a professional boxer in 2012 after signing with Ohashi Boxing Gym. He made his professional debut from a match against Crison Omayao, a Filipino national champion. He won his debut match against Omayao via a knockout in the fourth round of the game. After defeating Ryoichi Taguchi in his toughest but best performed fight, Naoya Inoue won two more fights before capturing the title of Japanese light flyweight champiot.
He then fought for the title of OPBF light flyweight and claimed the title after defeating Jerson Mancio in the fifth round. In 2014, he fought against Adrián Hernández for the title of World Boxing Council light flyweight champion. He dominated Adrián Hernández until the 10th round of the match and claimed the title after defeating 11th round. He then challenged Omar Andrés Narváez for his second world title in 2014. The fight did not last long as Naoya beat the guy out in the match's following round. During the game, he had suffered an injury that directed him out of the sport for a few months.
He made his comeback in 2015 after knocking out Warlito Parrenas in a similar pattern to Narvaez. He suffered another injury in 2016 during a fight against David Carmona but eventually won the contest. He had also fought with Kohei Kono, Antonio Nieves, and Yan Bordeaux before moving to the bantamweight category. Naoya Inoue won his first regular bantamweight battle facing Jamie McDonnel at the Ota-City General Gymnasium in 2018.
He then participated in the World Super Boxing Series to go against other world champions. His first fight in the series was against the Dominican Republic boxer Juan Carlo Payano, a battle Naoya won via first-round knockout. Naoya Inoue defeated Emmanuel Rodriguez in the semi-finals to book a final against Nonito Donaire, a four-weight world champion. He defeated Donaire in the thrilling finals to claim the series. The battle between the two got voted as the Ring Magazine Fight of the Year. He had also suffered a few injuries in the contest. Naoya Inoue will be fighting Jason Moloney on 31st October 2020.
Awards
Apart from the boxing titles, he has also won the Japanese Fighter of the Year award twice; in 2018 and 2019. He has also won several other honors, including the Knockout of the Year award in 2018.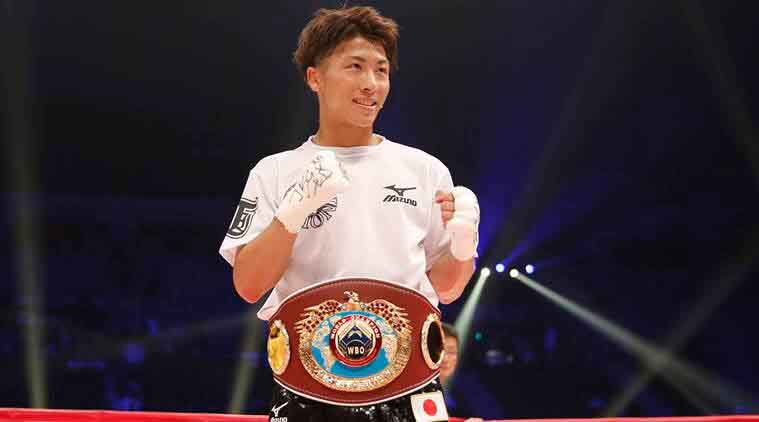 Personal Life
He married his lifelong sweetheart in 2015, but her name is not known. Naoya Inoue has two kids with her; a son and a daughter. He has a dream of winning as many world championships as possible in different weight categories. He does not follow a particular religion.
Height and Weight
He is 1.65 meters or 5 feet and 5 inches tall. His actual weight is unknown as it keeps changing according to the category he will be fighting.
Social Media: Facebook, Instagram, Twitter

He has over 472 thousand followers on his official Instagram handle @naoyainoue_410.
Net Worth
His actual net worth is unknown, but after looking at his winnings, we can estimate it to be a few million dollars.