Sophia Minnaert is an American journalist and broadcaster for the Milwaukee Brewers. She is also a digital features content director. Minnaert left Bucks in 2018 after the Brewers hired her. Minnaert also won an Emmy Award for a documentary.
| Quick Info | |
| --- | --- |
| Full Name | Sophia Minnaert |
| Date of Birth | July 23, 1987 |
| Birth Place | Madison, Wisconsin, United States |
| Profession | Journalist and Broadcaster |
| Age | 34 Years Old |
| Height | 5 feet 7 inches(1.73 m/170 cm) |
| Weight | 55 kg (121 lbs) |
| Nationality | American |
| Ethnicity | Mixed |
| Zodiac Sign | Leo |
| Parents | Father (Al Minnaert), mother (Sylvia Minnaert) |
| Siblings | 2 (Alex Minnaert and Mario Minnaert) |
| Hair Color | Blonde |
| Eye Color | Green |
| Marital Status | Single |
| Net Worth | Around $1 million |
Early Life and Background
On July 23, 1987, Sophia Minnaert was born in Madison, Wisconsin, United States. She holds American Nationality and comes from a mixed ethnic background as her mother is from Costa Rica. Her zodiac sign is Leo. Her father's name is Al Minnaert, and her mother is Sylvia Minnaert. Her father is a former Madison Edgewood High School football coach.
Minnaert grew up with two younger brothers – Alex Minnaert and Mario Minnaert. In her early years, she used to play a lot of sport like volleyball, softball, and basketball. Minnaert grew up in a sports family as her father was a former coach. Growing up, her influence in sport might have been why she chose sports as a career.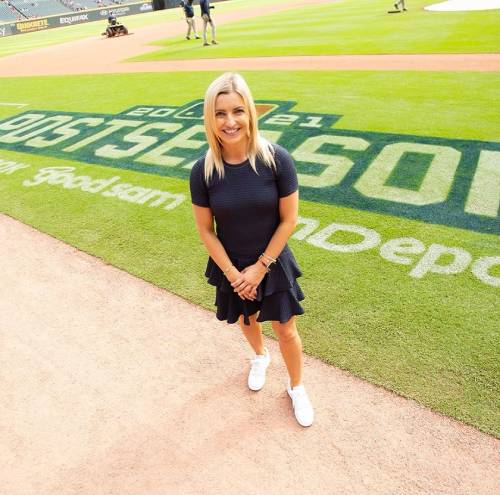 Education
In her high school years, Sophia Minnaert worked at the high school's sports production company, "When we were young productions."
After high school, Minnaert attended Marquette University in Wisconsin and graduated in journalism, Spanish, and literature in 2009. She did an internship in the ESPN internship program in Bristol, CT (USA), in 2008 during her studies. In her senior year, Minnaert joined WISN as an intern.
Physical Stats
The beautiful journalist stands at 5 feet 7 inches(1.73 m/170 cm) and weighs 55 kg (121 lbs). Minnaert has blonde hair and green eyes. However, she has yet to reveal her exact body measurements.
You might be interested to know about journalist Dave Meltzer.
Career
Sophia Minnaert started her career working as an intern for WISN. Before her chance at FOX, she was working with WISN. In 2012, Fox Sports Wisconsin (FSW) offered Minnaert a job post which Minnaert immediately accepted. She started working in their social media department the following year as an on-air sideline reporter.
Since 2013, she has worked as a reporter for the FSW, covering several games. Furthermore, she also worked for the Milwaukee Brewers and Bucks as a sideline reporter. In addition, she made a documentary titled "Baseball of the Dominican Republic."
Furthermore, she was also featured in PlayOn! Sports from 2009 to 2013. Minnaert's documentary won her an Emmy Award in 2013. An incident occurred while she was covering for the Brewers. Minnaert was hit by a baseball but continued to report the news; luckily, she did not get hurt. Minnaert continued working for the FWS until 2018.
On June 15, 2018, the Brewers hired Minnaert for broadcast and digital features content director. The hiring of Minnaert ended her role with the Bucks. Since 2018, Minnaert has worked for the Brewers as a broadcaster and digital features content director.
Relationship Status
Sophia Minnaert is not in a relationship or married. Instead, she has devoted her whole time to building her career. As a result, she has not shared anything regarding her personal life.
As of 2021, sources claim Minnaert to be presumably single.
You might be interested to know about journalist Ashley Iaconetti.
Net Worth
Minnaert has had a relatively successful career so far. As a reporter, we can assume she has accumulated a decent sum of money throughout her years. Her primary source of funds is her profession as a reporter.
Minnaert's salary is estimated at around $55K to $60K a year. Although not exact, online sources claim her net worth is estimated at around $1 million as of 2021.
Social Media Status
Sophia Minnaert is available on social media platforms. Minnaert tries to keep up with her posts as she is currently building her career.
Minnaert is on Instagram as @sophiaminnaert with 16k followers and @SophiaMinnaert on Twitter with 43.4k followers. Her posts consist of her reporting and interviewing players and other personnel.
For more biography about your favorite sportscasters, please check out Sportscovering.