Who is Bret Hart?
Bret Hart is a former professional wrestler from Canada. He is also a famous actor and writer. Bret belongs to the "Hart Wrestling Family."   He started as an amateur wrestler. Bret changed the professional wrestling scenario after he started the game in the 1990s. He is one of the greatest wrestlers in the history of wrestling. Bret was part of the "World Wrestling Federation." It was during the "New Generation Era." He is popular for his nickname in "Hitman."
Quick Info
Full Name
Bret Sergeant Hart
Date Of Birth
2nd July 1957
Birth Place
Calgary, Alberta, Canada
Parent(s)
Stu Hart
Helen
Profession
Wrestler
Actor
Writer
Spouse
Stephanie Washington
Age
63 Years
Height
6 ft
Children
4
Net Worth
USD $7 million
 Early Life and Siblings

The birthplace of Bret Hart in Calgary, Alberta, Canada. He came into the world on 2nd July 1957. His father's name is Stu Hart. He was a professional wrestler. His mother's name is Helen. Bret grew up with his eleven siblings in Calgary, Alberta. Smith, Keith, Dean, Owen, Ross, Bruce, and Wayne are his seven brothers. Georgia, Diana, Alson, and Elli are his sisters. Bret was closest with his elder brother Dean. All of them grew up in "Hart Family Mansion."
The family also had a bear known as "Terrible Ted" during his childhood. The teeth of the bear were removed. Bret used to make the bear lick his toe containing ice-cream to keep his toes clean. He saw the professional wrestlers, their training, and championships at an early age. Bret also used to share fliers before his school time in various wrestling shows. He also shared a screen on a documentary and his father titling "Hitman Hart: Wrestling with Shadows" in 1998. Bret was only four years old when he used to pull out "lucky numbers" from the metal box during the "Stampeded Wrestling shows.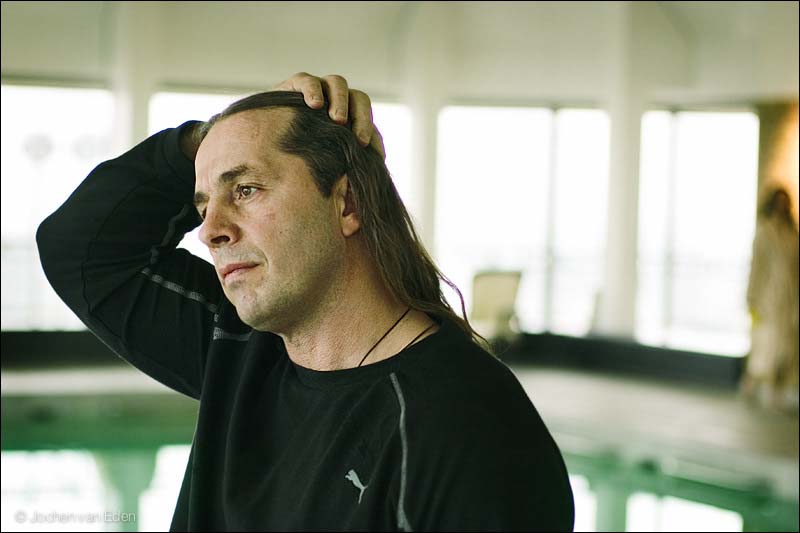 Education
Bret Hartt attended the "Ernest Manning High School." He had started his training in wrestling at an early age. Bret had succeeded in becoming a popular amateur player till the age of nine years old. He was also part of the "Amateur Wrestling Division." Bret had also won several championships in Alberta. This also included the "City Championship" in Calgary in 1974. Bret won the match against Bob Eklund. Bret also won the "Outstanding Wrestler of the Year 1980-81." His showcasing of the prize medals to his father. This played a vital role in creating a magical bond with his father.
Bret Hart joined the "Mount Royal College." He was a student of filmmaking during that time. Bret even succeeded in becoming a "collegiate champion" by the end of 1977. His grades started to become poorer, and he shifted his focus to professional wrestling.  He started his training in the promotional events of the "Stampede Wrestling." Bret even found the involvement of wrestling in his high school and junior high school time as a source of confidence.
Career

Professional Wrestling Career
Bret Hart started his professional career as a referee in the promotional match of "Stampede Wrestling" of Stu Hart. It was his father's event in 1976. He started his career as a wrestler in 1978. Bret started getting success in the 1980s. Bret joined the "World Wrestling Federation" (WWF) during the 1990s. He even managed The Hart Foundation Stable." After he participated in the "Montreal Screwjob" in November 1997, he joined the "World Championship Wrestling" (WCW). He was in the WCW till October 2000. He suffered from a "concussion" in December 1999. This kept him away from the wrestling competitions after January 2000. He retired from wrestling in October 2000.
WWF
Bret Hart was back in the ring between 2010 and 2011 in "WWE." He succeeded in winning a championship during that time. This created headline in the "2010 Summerslam." He also became the general manager of "Raw." Bret succeeded in creating many headlines during "WrestleMania" (IX, X, XII). Bret was also part of the "Starcade" in 1997 and 1999. He appeared in the matches as a "special enforcer" and a "referee." Hart earned the honor of entering the "Wrestling Observer Newsletter Hall of Fame" in 1996.
Moreover, Bret succeeded in winning a total of thirty-two titles during his fifty years of career. Seventeen matches were between the two wrestling franchises "WCW" and "WWF/WWE." Bret had won "WWF World Heavyweight Championships five times and "WCW Heavyweight Championship" two-times. He became the first wrestler to hold the title of "Most Combined Days" in the "WWF World Heavyweight Championship" during the 1990s. It was the record of 654 days.
Bret Hart was the first wrestler outside of the USA to win the "WCW World Heavyweight Championship." Bret also won the "WWF Triple Crown Championship" two times and "WCW Triple Crown Champion" five times. Bret was the first wrestler to win both of the tournaments. Bret also won the "1994 Royal Rumble ", "King of the Ring" two-times, the "1991 tournament," and the "King of the Ring pay-per-view" in 1993. Stone Cold played a significant role in making Bret enter the "WWE Hall of Fame Class" in 2006. He succeeded in becoming part of the "Hall of Fame" the second time as a member of "The Hart Foundation" in 1991.
Bret Hart has also been part of several movies, documentaries, and television programs. He appeared in the popular TV show "The Simpsons." Bret has also written two biographies and a weekly column of the "Calgary Sun" for ten years. Bret started his involvement in the charity events of "Stroke Recovery" and "Cancer Awareness" programs. Bret has very beautifully included his professional wrestling events and the "Montreal Screwjob" in his autobiography. The book succeeded in becoming the "Best Seller."
Personal Life and Wife
Bret Hart tied knots with Julie Smadu on 8th July 1982. They are the parents of four children. Jade Michelle Hart, Dallas Jefferey Hart, Alexandra Sabina Hart, and Blade Colton Hart are the couple's children. Unfortunately, the couple ended their marriage in May 1998. They legally ended their marriage on 24th June 2002. After few hours of the incident, he had a stroke. Bret married Cinzia Rota on 15th September 2004. The marriage also ended in divorce in 2007. Bret tried his luck for the third time with Stephanie Washington on 24th July 2010.
He has also become a grandfather in several intervals of time between 2010 and 2019.
Social Media: Facebook, Instagram, and Twitter

Bret Hart is active on social media platforms. He goes with the name of "Bret Hart" on Twitter with 1.3 million followers and "@brethitmanhart" on Instagram with 881K followers. His Facebook page "Bret Hart" has 1.8 million followers.
Net Worth
Bret Hart had been part of the wrestling fraternity for more than fifty years. He had won a lot of tournaments and championships. According to celebritynetworth.net, he has an approximate net worth of $7 million.
Nutshell Bio, Height, Weight, and Age

The full name of Bret is Bret Sergeant Hart. The nationality of Bret is American and Canadian. His current age is 63. He has an attractive height of 6 feet with a complimentary weight of 107 kgs. Bret belongs to the Greek, Scottish, and English ethnicity.