Caitlin Clark is an American collegiate basketball player who plays shooting guard for the Iowa Hawkeyes of the Big Ten Conference.
She is also a gifted young lady who maintains all of the attributes necessary to become the best basketball player of all time in the future.
| Quick Info | |
| --- | --- |
| Full Name | Caitlin Clark |
| Date Of Birth | January 22, 2002 |
| Birth Place | Des Moines, Iowa |
| Parent(s) | Brent and Anne Nizzi-Clark |
| Occupation | Basketball player |
| Age | 19 years old |
| Body Measurement | N/A |
| Height | 6 feet |
| Weight | 70 kg |
| Nationality | American |
| Hair Color | N/A |
| Eye Color | N/A |
| Zodiac Sign | Aquarius |
| Ethnicity | White |
| Martial Status | Single |
| Spouse/Partner | N/A |
| Children | N/A |
| Net Worth | N/A |
Caitlin Clark Early Life
Caitlin's current age is 19 years old, and she was born in Des Moines, Iowa, on January 22, 2002. According to her date of birth, she has the zodiac sign of Aquarius. In terms of her physique, she stands 6 feet tall and weighs 70 kg.
Caitlin Clark is the daughter of Brent and Anne Nizzi-Clark. Her father was a basketball and a baseball player at Simpson College.
She has two brothers, Blake and Colin. Blake is also an athlete who plays football for Iowa State.
At the age of five, Clark commenced playing basketball. Maya Moore was her childhood basketball hero, and Kevin Durant is her favorite NBA player.
The young athlete holds two state records, including the 5A record for most points in a game and most 3-pointers made in a game. In addition, she received honors, including the Iowa Miss Basketball and Gatorade State Player of the Year and being named a McDonald's All-American.
Caitlin was a four-year starter for head coach Kristin Meyer at West Des Moines Dowling High School. She began all 24 games as a freshman in 2016–17, averaging 5.3 points, 3.3 rebounds, 4.7 assists, and 2.25 steals per game, helping her team to a 19–5 record and a journey to the state quarterfinals.
You might also want to know about Zach Plesac.
Caitlin averaged 27.1 points, 6.5 rebounds, 4.0 assists, and 2.3 steal as a sophomore in 2017–18, helping her team to a 20–4 record and the state quarterfinals.
She led Dowling Catholic High School to a 17–8 record and an appearance in the Iowa Class 5A playoffs during her junior year, averaging 32.5 points, seven rebounds, 3.5 assists, and 2.2 steals per game.
Why is Caitlin Clark famous?
Caitlin's eyes are fixated on her objective at all times. Consequently, she is a person who embraces her field of interest with zeal and dedication, which is why she is increasing in popularity among basketball enthusiasts these days.
Caitlin Clark Career
She made her academic debut for Iowa on November 25, 2020, scoring 27 points in a 96–81 win over Northern Iowa. Caitlin was the 2020-21 NCAA Division I scoring leader and established the Iowa freshman record with 26.6 points per game.
She also had the fourth-highest points per game in a single season in Iowa history. A talented lady is the first rookie in NCAA Division I history to have 12 30-point games, the most by a freshman since 2000.
She ranked first in the country in total assists (214), total points (799), points per game (26.6), field goals made (266), and 3-pointers made (116), and second in assists per game (7.1) and 3-pointers per game (3.87).
Her 799 points were the most ever scored by a freshman, and her 39 points in a single game set a school record.
Caitlin has the most assists by a newcomer in program history with 214. In addition, she was named Big Ten Conference Player of the Week five times, the most of any player in the conference.
Caitlin Clark Awards & Achievements
A conference record, Caitlin was selected Big Ten Freshman of the Week 13 times. In addition, she was chosen Big Ten Freshman of the Year and a unanimous First Team All-Big Ten and All-Big Ten Freshman Team selection after the regular season.
She and Paige Bueckers of UConn shared two major NCAA Division I freshman of the year awards: the USBWA Tamika Catchings Award and the WBCA Freshman of the Year award.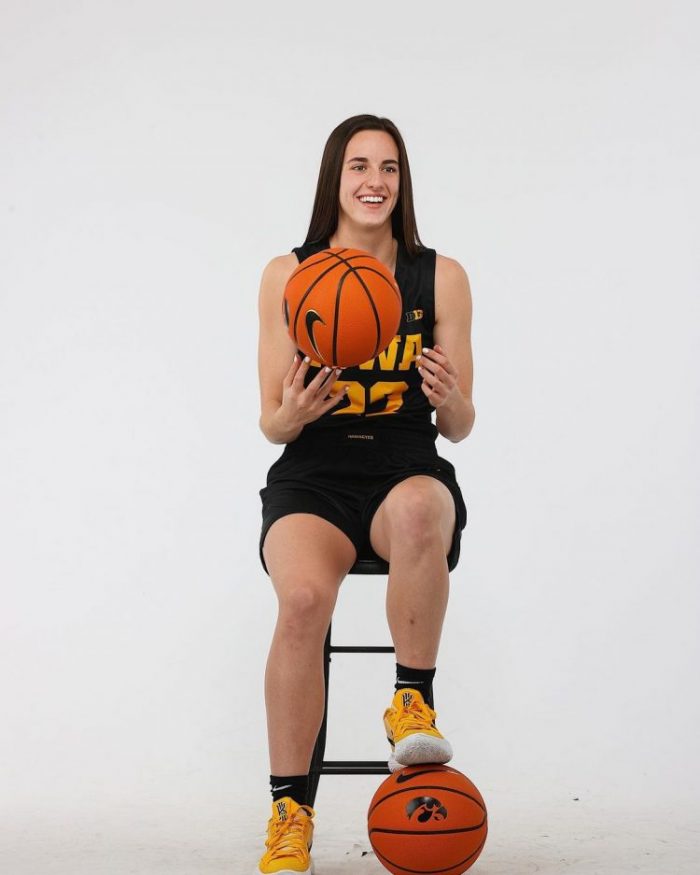 Caitlin Clark Relationship
Her partner's identity is unknown at this time. Caitlin has yet to reveal who she is dating, or she could be single and focused on making her profession even more significant than it is.
However, she doesn't seem to uncover her personal life with others. Caitlin might have a plan to make it public in the future, and if she does, the ordinary readers will know.
You might also want to know about Yermin Mercedes.
Caitlin Clark Net Worth
There is currently no information available about Caitlin's net worth. However, as per Go Banking Rates, the most prominent NBA contracts are worth more than $40 million for an 82-game regular season, or $487,800 per game.
On the other side, she is currently a college player who can make a decent income. Nonetheless, she has a chance to be drafted by a WNBA team in the coming days, and if that happens, she will earn nearly as much as the given amounts.
Caitlin Clark Social Media
She is available on Facebook, and Twitter, where she is mainly seen sharing his pictures with his teams, games, etc. Oxspring is also available on Instagram, where she has around 53.7k followers and is decently active. We hope to see Caitlin Clark being more consistent and regular with her posts on her social media.
For Full Biography about your Favorite Basketball Player, Please check out Sportscovering.