Ikem Ekwonu is a college athlete who plays American football as an offensive tackle for the NC State Wolfpack. His squad participates in the NCAA Division I Football Bowl Subdivision (FBS) and the Atlantic Division of the Atlantic Coast Conference (ACC), representing North Carolina State University.
| Quick Info | |
| --- | --- |
| Full Name | Ikem Ekwonu |
| Date Of Birth | October 31 |
| Birth Place | Charlotte, North Carolina |
| Parent(s) | T.J. Ekwonu and Amaka Ekwonu |
| Occupation | American Footbal Player |
| Age | N/A |
| Position | Offensive tackle |
| Class | Sophomore |
| Body Measurement | N/A |
| Height | 6 feet 4 inches |
| Weight | 145 kg |
| Nationality | American |
| Hair Color | Black |
| Eye Color | Black |
| Zodiac Sign | N/A |
| Ethnicity | African-American |
| Martial Status | Single |
| Net Worth | N/A |
Ikem Ekwonu Early Life
Although Ikem's complete date of birth is not available, he was born in Charlotte, North Carolina, on October 31.
His parents are T.J. Ekwonu (father) and Amaka Ekwonu (mother). His father is a doctor who was also a college basketball player before coming to the U.S. from Nigeria, and his mother was a high school track star. Ikem also has a fraternity brother Osita, an LB at Notre Dame.
A former coach gave him the nickname "Ickey" because he looked like former Cincinnati Bengals running back Ickey Woods. He weighs 145 kg and stands 6 feet 4 inches tall for his physical stats.
Ikem Ekwonu went to Providence Day School. He chose North Carolina State over Georgia Tech, Maryland, North Carolina, Tennessee, Virginia, and West Virginia to play college football. Ickey is now pursuing a degree in business administration.
Ikem Ekwonu is also a high school wrestler who competed in prep relays as the anchor leg. In addition, Ikem was honored first-team all-state and CISAA first-team all-conference on offense.
Ikem had 20 tackles with 4.5 sacks as a junior and added 28 knockdown blocks on offense as a senior. On defense, he also posted 29 tackles with four sacks.
Ikem Ekwonu Career
Ikem Ekwonu began his college football career in the 2019 season, where he was the first player to start at offensive tackle since Rob Crisp in 2010.
He also received the team's John Ritcher OL of the Year award and the Philip Rivers Award for Rookie of the Year.
Ikem Ekwonu had seven pancake blocks for a season-high 87 snaps at Georgia Tech. He guided the team in pancakes with 37 and had a season-best seven pancake blocks against Louisville.
He was shifted back to left tackle and headed the Wolfpack with 50 pancake blocks and 22 knockdowns. He was awarded second-team All-ACC at both guard and tackle by the Associated Press.
Ikem spent the last seven games of 2019 as a first-team player at LT, the first four games of 2020 at LG, and was again sent back to LT for the last six outings.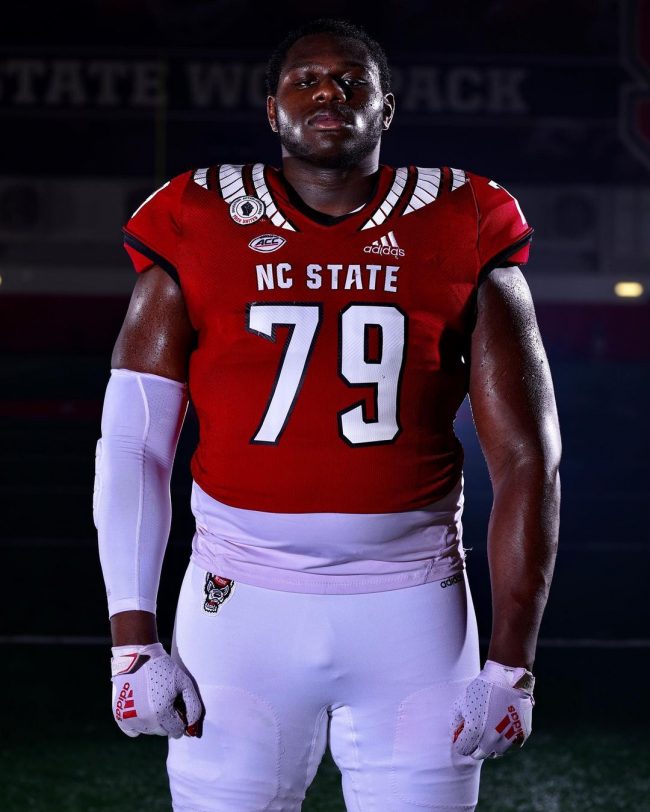 Ickey was named the FWAA Freshman All-America team and the PFF All-Freshman Team for 2019.
Ikem achieved a 3.4 GPA in his management major and was named to the Dean's List for an All-ACC Academic performer. In addition, pro-Football Focus had chosen him as a second-team All-ACC choice.
Is Ikem Ekwonu In A Relationship?
Ikem's relationship status is currently unknown. He seems to be busy working hard on his football career. He could be dating someone in his spare time or single as of now. If Ikem ever comes up with his matter, the general public will know it.
Ikem Ekwonu Net Worth
Ikem Ekwonu is a collegiate football player who has yet to break into the pro ranks. As per NCAA rules, college players are not authorized to be paid for their games, but they are awarded scholarships instead.
Nevertheless, he will make a good living once his professional career takes off.
Meet Ikem Ekwonu On Social Media
Ikem Ekwonu appears to be so active on Instagram and Twitter. He has created a handle @bigick79, with 20 posts, 5,245 followers, and 1,004 followers. Likewise, he goes by the username @BigIck79 and has 451 followings and 2,5391 followers.
Follow him on both platforms to keep up with his daily activities and appreciate his game-related updates and tweets.
For full biography about your American Football Player, please check out Sportscovering.