Taylor Lewan is an American footballer to play in "Offensive Tackle." He is famous for representing "Tennessee Titans" in the "National Football League" (NFL). Taylor succeeded in getting selected in a "First-Team All-Big Ten" during 2013, 2012, and 2011. It was for the team "Michigan Wolverines." Similarly, he succeeded in becoming part of the selection of "First-Team All-American" during 2013 and 2012.
Quick Info
Full Name
Taylor Curtis Lewan
Date Of Birth
July 22, 1991
Birth Place
Scottsdale, Arizona, US
Parent(s)
Dave Lewan
Kelly Riley
Profession
American Football Player
Spouse
Taylin Gallacher
Age
29 years
Height
6 ft 7 in
Children
2
Net Worth
US $50 million
Early Life and Education
The birthplace of Taylor is Loomis, California. He came into the world on 22nd July 1991. His father's name is Dave Lewan. He used to play for "University at Michigan" as an "Offensive Lineman." He even played for "Oakridge Secondary School" during his high school days. Taylor's mother's name is Kelly Riley.
Taylor played representing "Cactus Shadows" during his high school football days. He used to play in "Defensive End" before shifting to Chaparral High School" for senior season. There he played in the place of "Offensive Lineman."
Likewise, "Scout.com" and "Rivals.com" had rated him four stars. Taylor Lewan held the position of "fifth-best player" in the city of Arizona. "Rivals.com" gave him the ranking of 194 in the list of national players. The same website ranked Taylor Lewan's in number three in the list of "Most Offensive Lineman" and number five in the category of "Agile Offensive lineman."  He even held the title of "SuperPrep All-American." Taylor also became number ten in the "Overall Offensive Line" prospect. He even got the opportunity to participate in the "Under Armor All-American Game." Moreover, he went to "The University of Michigan" for completing his major in general studies during the 2009 season.
Career
Taylor Lewan started playing regularly from the 2010 season. Although, Taylor was unable to perform in the starter matches of the season. Taylor began to in 9 out of 11 games as the starter. He played from the "Starting Left Tackle" position from the fourth game in 2010.
However, Taylor's professional career started after the Tennessee Titans selected Taylor in the first round of the "2014 NFL Draft." The team signed Taylor with a contract of $11.48 million for four years. He received a signing bonus of $6.67 million in his Rookie Year.
Likewise, Taylor gained the title of "Titans" getting the left tackle. He succeeded in becoming part of 15 games and even got five sacks. Taylor started the season 2016 holding the position of left tackle. He became part of the 16 games. Taylor scored his NFL touchdown for the first time on 23rd October 2016. Taylor Lewan got the opportunity to become part of the "Pro Bowl" for the 2016 season. He succeeded in securing his position in number 72 in listing "NFL Top 100 Players of 2017."
Moreover, the 2017 season became the "Second Pro Bowl Season." He became part of the second "Pro Bowl" on 19th December 2017. He acquired his ranking 78 in the list of "NFL Top 100 Players of 2018." Similarly, the 2018 season became the "Third Pro Bowl" season for Taylor. Taylor Lewan became the highest-paid "Offensive Lineman" in the league. The "Titans" signed him for 80 million dollars with eight years of the contract. The contract even guaranteed $50 million. Taylor Lewan became the "Third Consecutive Pro Bowl"  for the team on 18th December 2018. In the listing of "NFL Top 100 Players of 2019", he received 77th position.
Likewise, Taylor Lewan announced that he received a suspension for four games after failing a drug test. The drug got found to contain banned substances. He published a video on 24th July 2019. After analyzing his situation, he received permission to become part of the matches from 4th October. The " Titans" succeeded in becoming part of the "AFC Championship Game" for the first time during "2019-20 NFL playoffs."
Relationship/Personal Life
Taylor married Taylin Gallacher. They got blessed with a daughter Wynne Rebel Lewan. Taylor recently gave birth to a son and named him Will Compton. His son seems to be at the age of 8. He shared in a recent post wishing his son a happy birthday. Taylor shared several photos since his childhood. The images shared on his Instagram expresses love for his spouse and his kids. The aggressive player ja the field becomes an innocent person when he is around his children. All his pictures are adorable and heart touching.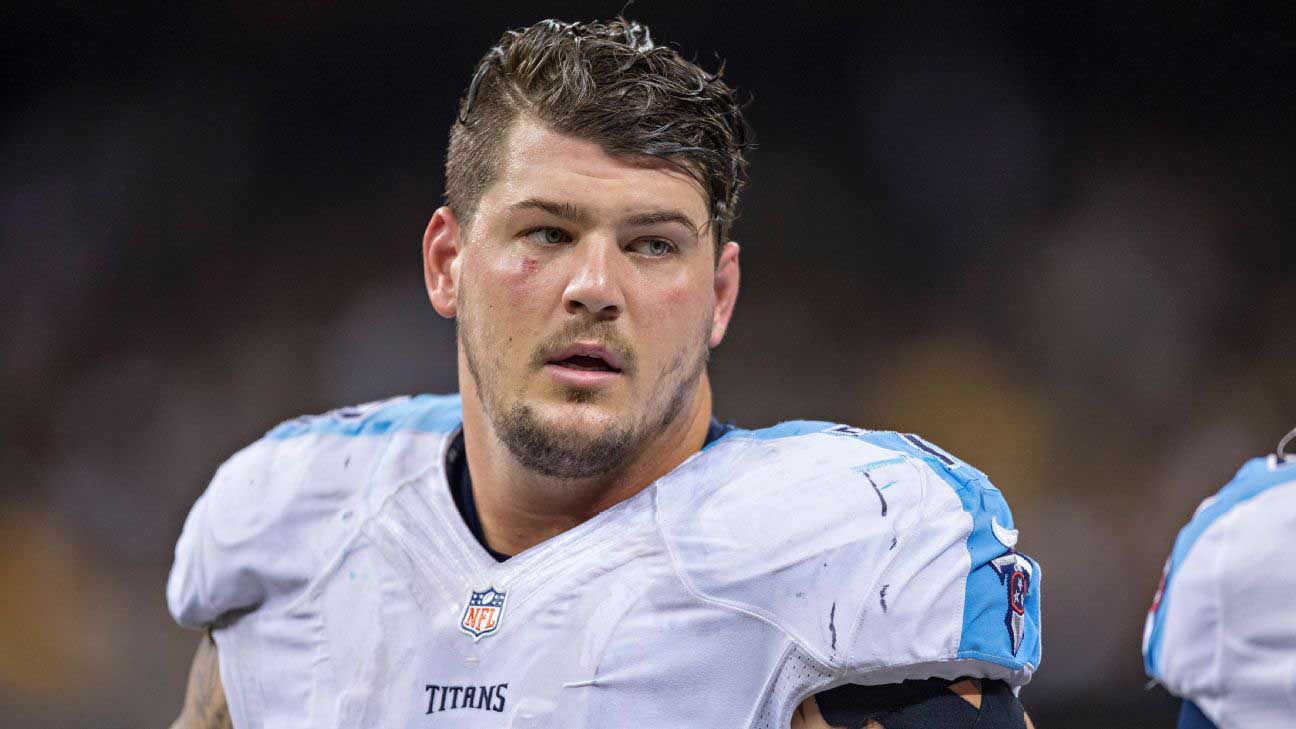 Social Media
Taylor goes with the name of "@taylorlewan" on Instagram with 137K followers, "Taylor Lewan" on Twitter with 87.1K followers. Taylor shares his personal and happy moments on his Instagram.  He does not use a page on Facebook.
Net worth
Taylor has been active in the sports field for about ten years. According to the evaluation of his accomplishments, he indeed has a net worth of more than $50 million.
Nutshell Bio
The full name of Taylor is Taylor Curtis Lewan. His nationality is American. His ethnicity is not apparent, and has a handsome height of 6 feet 7 inches with a complimentary weight of 143 kgs.