Who is Youssoufa Moukoko?
Youssoufa Moukoko is a German football player who plays as a striker for the Bundesliga based football club, Borussia Dortmund, and he wears the number 18 jersey in the club. He plays for the German National Football Club U20 at the international level and is well-known for his strong scoring ability. Besides this, he also got sponsored by the good sporting giants Nike. He had scored an impressive 46 goals in a single season when he played in the B-Junioren Bundesliga West league in the 2018/2019 season.
Quick Info
Full Name
Youssoufa Moukoko
Date Of Birth
November 20, 2004
Birth Place
Yaounde, Cameroon
Parent(s)
Joseph Moukoko
Marie Moukoko
Profession
Footballer
Nationality
German
Age
16 years
Height
5 ft 10 in
Weight
72 kg
Net Worth
US $593 Thousands
Moreover, Youssoufa Moukoko became the youngest player to make the Bundesliga appearance as he played his debut match with Borussia Dortmund at the age of 16.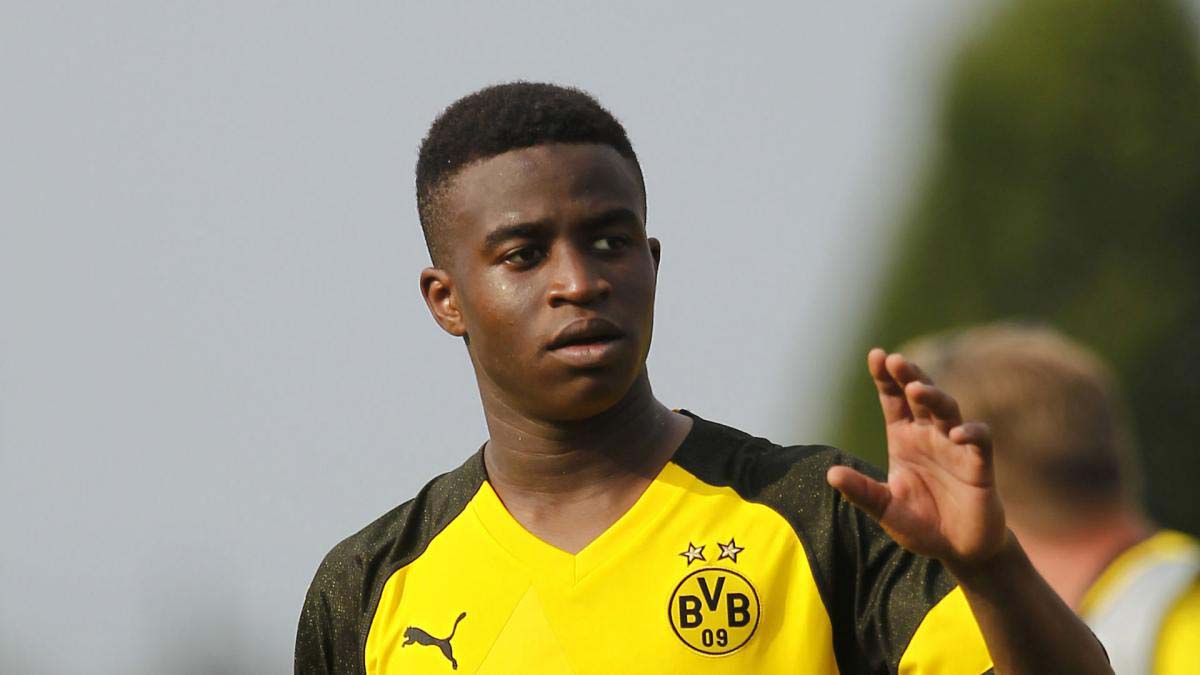 Bio
Youssoufa Moukoko was born on 20 November 2004 in Youndé, Cameroon, to father Joseph Moukoko, residing in Germany, and Marie Moukoko. He has four other siblings, among which his older brother named Borel Moukoko, is also a football player who plays for the Schwarz-Weiß Essen since the year 2019. Besides this, Youssoufa Moukoko is currently 16 years old with the zodiac sign of Sagittarius.
Nationality and Physical Stats
Youssoufa Moukoko was initially born in Cameroon but later moved to Germany with his father and family, and since then, he holds German nationality. He is of Cameroonian descent and is a Muslim by religion. Besides this, Youssoufa Moukoko stands at the height of 5 feet and 10 inches (1.79m/179cms) tall and weighs around 72kgs (158lbs). Moreover, he has an athletic body type with a pair of black eyes and short black hair.
Education
Youssoufa Moukoko is still studying in school as he is just a 16-year-old teenager. However, he was permitted by the German rule, which allowed the temporary or permanent absence for school-age students to pursue athletic giftedness. This irony means that the young Youssoufa Moukoko will be absent from his school and appear on the training grounds for his professional football career.
Personal Life
Youssoufa Moukoko is a teenager who got focused on achieving his dreams as a successful football player. As of 2020, he is currently single and not involved in any relationship with anyone.
Social
Youssoufa Moukoko is active on social media platforms. His Instagram account (@youssoufa_10) has more than 879 thousand followers, and his account (@Youssoufa_10) can also found on Twitter; however, it's not verified yet. 
Career
Early Career
Before appearing as a professional player, Youssoufa Moukoko played in the U-13 team of FC St. Pauli from the year 2014 to 2016. He held an impressive record of scoring 23 goals in just 13 games and play as a striker for the team. He was then transferred to the U-17 team of Borussia Dortmund and was the only 13-year-old on the team. Despite his young age, he scored a double hattrick or a total of 6 goals in his first match with the team in a 9-2 victory against opponents Wuppertaler SV.
Moreover, he became the youngest player to compete in the UEFA Youth League match when he played against FC Barcelona on 17 September 2019. Likewise, he became the youngest player to score in the Youth League when he led his team towards a 1-0 victory over opponents Inter Milan the same year.
Professional Career
As soon as the young footballer turned 16, Youssoufa Moukoko was eligible to play with the senior team of Borussia Dortmund, and he was allowed to begin his training with the senior squad under the Swiss professional football manager, Lucien Favre. He became the youngest player to play in the Bundesliga's history, breaking the previous record held by Nuri Şahin, being the youngest player at 16 years and 334 days. In his debut match against opponents Hertha BSC, he replaced the Norwegian professional footballer Erling Braut Haaland in the 85th minute, and his team grabbed a 5-2 victory.
International Career
Youssoufa Moukoko played for the U-16 German National Football team and made his debut against Austria when his team grabbed a 3-1 victory. He scored his first and second goals in a match against the same team when his team caught a 2-1 win. He was the youngest player on the club and was gaining popularity quickly.
Achievements
Youssoufa Moukoko completed his 2017/2018 B-Junioren Bundesliga West season with a total of 37 goals and the 2018/2019 season of the same with an impressive 46 goals. He completed his 2019/2020 A-Junioren Bundesliga West season with a total of 34 goals. Moreover, he has won two German U-17 Bundesliga West Championships and one German U-17 Bundesliga Championship with Borussia Dortmund.
Net Worth
Youssoufa Moukoko has earned himself a lot of fame in his football career and already got compared to football players like Erling Haaland and Jadon Sancho. He earns from his professional football career, as of 2020, the young football player has a market value of €1 million or $1.1 million and a net worth of €500 thousand or $593 thousand approximately.